Lunar New Year Celebration
February 5, 2022 11:00 AM - 4:00 PM
|

Summit Court
---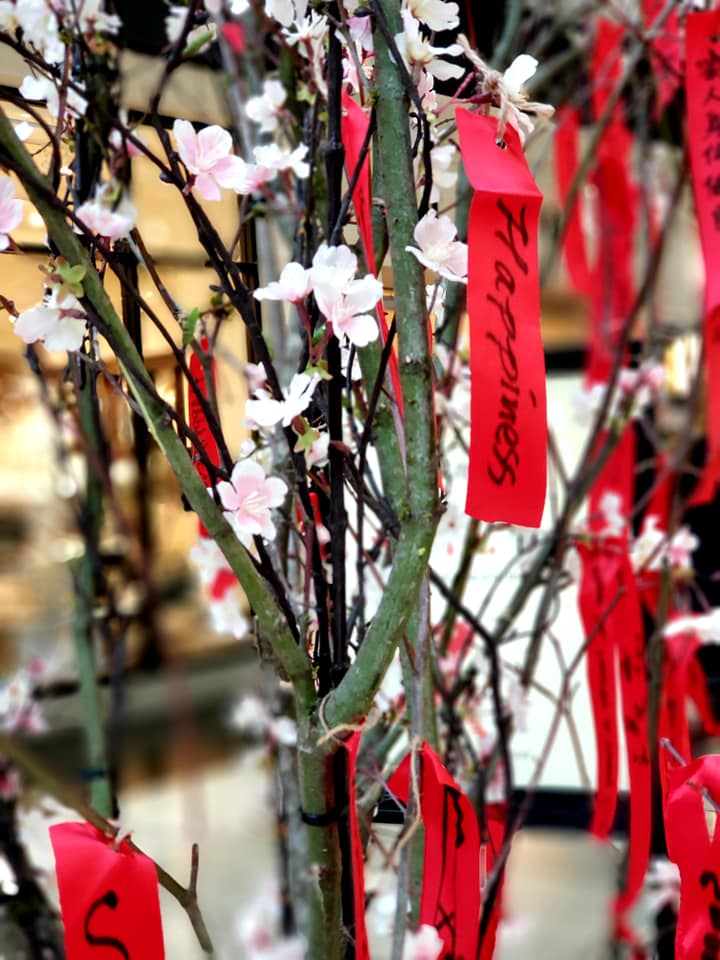 HAPPY LUNAR NEW YEAR
Washington Square & First Tech Federal Credit Union wishes you and your family good fortune and happiness during the Year of the Tiger.
February 5, Summit Court

In celebration of the Lunar New Year, shoppers are invited to visit the Summit Court to snap a selfie and make a wish on red ribbon, as we honor the tradition of the Wishing Tree. Enjoy traditional crafts, stories, dances, and more for the whole family, as we celebrate the Lunar New Year.
Presented by First Tech Federal Credit Union.

This year, Lunar New Year lands on Tuesday, February 1st, 2022. Celebrations typically begin the night before (Jan 31st), and extends up to 16 days. This Lunar New Year marks the transition to the Year of the Tiger, which is the third animal of the zodiac.
Traditionally, New Year's eve and New Year's day are reserved for family celebrations, including religious ceremonies to honor ancestors. Communities celebrate with cultural dances, fireworks, and plenty of traditional foods such as niang gao (sticky rice cake) and fish, to symbolize a surplus in luck and wealth.
RED ENVELOPE DEALS:
Log in with Password "thankyouforshopping" for Special Deals!
Summit Court Performance Schedule:
11:00 AM Storytelling featuring Chinese Folktales by Alton Chung
11:30 AM Portland Puppet Museum presents "Legends of Ancient China" with Ping Pong Panda

12:30 PM Portland Chinese Dance Troupe
1:00 PM Musical Showcase by Bihai & Dr. Jiyu Yang of Wisdom Arts Academy
2:00 PM Badminton Showcase by Jie Yang & Thomas Wang
2:15 PM Performances by Jing Lu, Frank Li and Amanda Sun
2:30 PM Art World School
3:00 PM Summit WuShu Academy
3:30 PM White Lotus Lion Dance
Activity Table in Macy's Court:
11:00 AM Calligraphy & Cherry Tree

12:00 PM Lunar New Year Hats
1:00 PM Tiger Bookmark
2:00 PM Lantern Ornaments
3:00 PM Activity Sheets
ALL DAY Coloring Sheets & Orgami

Traditional Flavors at Washington Square:
Our founder, Bing-Yi Yang and his wife opened a small shop dedicated to cooking oil and handmade Xiao Long Bao - steamed pork soup dumplings in Taiwan. The Xiao Long Bao or "little dumpling in a basket," are delicate broth-filled dumplings. We hand roll every Xiao Long Bao by order and steam to perfection in a bamboo basket.

When celebrating Lunar New Year, food is very important in the festivities. Various dishes provide luck for the coming year.

Tips in choosing a menu from Din Tai Fung this New Year:

Dumplings are a must for celebrations! According to Chinese legend, eating more dumplings during New Year celebrations will increase wealth for the coming year. Try our Snow Crab & Kurobuta Pork Xiao Long Bao or Jidori Chicken Dumplings!

Noodles symbolize a wish for longevity to those who enjoy them for their meals on this day. Uncut in preparation will symbolize the eater's long and happy life. Try our Noodles with Sesame Sauce or Shrimp Fried Noodles.
Fun for Kids: Lunar New Year Crafts to Download and Print
Lunar New Year Activity Sheets
Love Struck! Drive-in Valentine Movie Series
February 11, 2022 through February 13, 2022
LOVE MOVIES + FOOD = VALENTINE'S PLANNING DONE! A drive-in Valentine's movie experience that combine...