Sales Associate Permanent Part-Time (2)
Posted August 21, 2023 |
Williams-Sonoma
---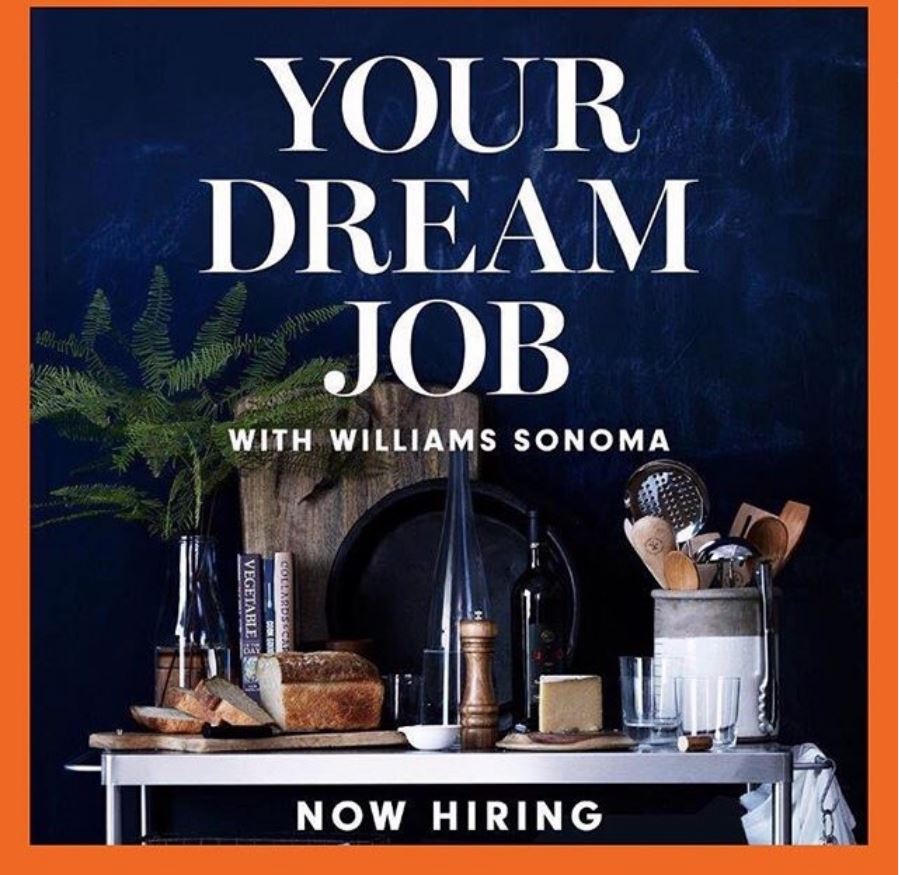 Position: Sales Associate
Reports To: General Manager and /or Associate Manager
Location: Store Washington Square
Type: Casual, Non-Exempt

Discover your purpose…

Provide customers with a unique shipping experience by offering excellent customer service. Utilize effective selling techniques and provide in-depth product knowledge in a fast-paced, specialty retail environment.
Who we are…
Our mission is to enhance the quality of our customers' lives at home. We put the customer at the center of everything we do, every day. Our corporate values that guide our actions and decisions and our People First culture, customers, quality, shareholders, integrity, and corporate responsibility.
Who you are…
Love to sell, can articulate a proven ability to exceed selling goals & most importantly can close a sale
Succeed in a team environment, while able to work independently & manage your own time
Thrive in an entrepreneurial environment & are constantly looking for ways to think outside-the-box
Know what questions to ask your customers in order to understand their personal cooking style & needs
Enjoy discovering the customer's style, lifestyle & story to connect them to the right products
Most successful when provided with clearly defined daily sales goals & metrics.
At Williams Sonoma you will…
Provide sincere, friendly, and energetic customer service by exemplifying World-Class service standards. Achieve established sales and contest goals Maintain knowledge of current sales and promotions
Assist customers with special services including gift wrap, gift registry, locating merchandise, catalog orders, special orders, back orders, charge sends, courier deliveries, and furniture orders
Utilize effective selling techniques to build multiple sales and increase productivity
Demonstrate comprehensive product knowledge, including features and benefits Efficiently and accurately perform register transactions i.e., sales, returns, and exchanges
Assist in implementation and maintenance of visual merchandise presentation, signage, and lighting
Uphold store maintenance and cleanliness standards straighten, clean, and help maintain stockroom as needed
Process, ticket, and restock merchandise as needed
Perform other duties as assigned by management
Comply with all Company policies and procedures.

What we're looking for…
High school diploma or equivalent preferred
1-2 years retail sales experience (specialty retail preferred, but not required)
1-2 years customer service experience
Proven ability to prioritize and handle multiple tasks simultaneously
Ability to operate POS system
Ability to lift and mobilize medium to large items, up to 75 lbs., while utilizing appropriate equipment and safety techniques
Available to work a minimum of two regularly scheduled shifts on the weekend (Friday, Saturday and/or Sunday) and one during the week (Monday to Thursday)
Associates must be available for annual inventory and entire holiday season (November and December)
*Example: Weekend availability cannot fall on the same day; an associate must be available on two separate days (Friday and Saturday, Friday and Sunday or Saturday and Sunday)
If preferred, an associate can also choose to have all three shifts of availability on the weekend (Friday to Sunday) and none during the week (Monday to Thursday).

In accordance with the Accessibility for Ontarians with Disabilities Act (the 'AODA") in Ontario, Williams-Sonoma Canada would like to advise that it complies with all applicable requirements of the AODA and, if necessary, provides accessibility for all applicants and associate with physical and mental disabilities, both during recruitment and employment. If an applicant or an associate is in need of an accommodation for a disability, contact a General Manager and any store location for assistance.

Contact Information
Contact Information
William-Sonoma, Inc.
General Manager Washington Square
Judy Flowers
jeflowers@stores.williams-sonoma.com
(503) 684-2784