Now through April 25, 2021
|

Parking Lot across from Red Robin, off of Washington Square Rd
---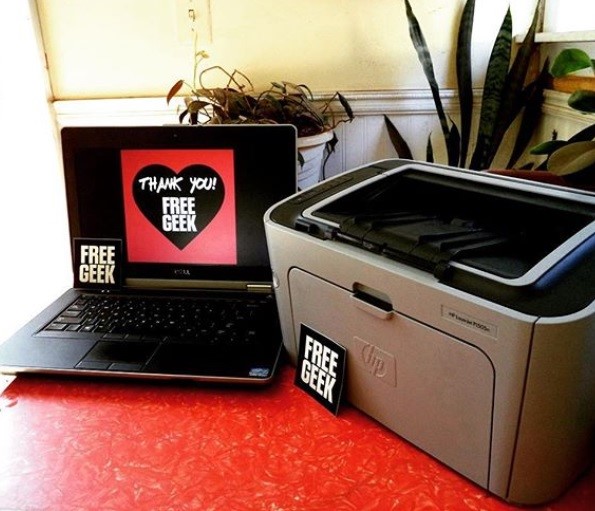 Free Geek Tech Now Drive
Free Geek's goal is to divert technology that would otherwise be recycled or thrown away, refurbish it, and give it back to our community. Join us in donating used laptops on Sunday's in April, from 10am - 2pm.
Our ambitious goal is to collect 10,000 devices through both technology and financial contributions.
Dates: April 11, 18, 25
Times: 11am - 2pm
Located: Off of Washington Square Rd, across from Red Robin
What can I donate?
In order to focus efforts on the devices most in demand, the Technology NOW campaign will only accept laptops (including their power adapters), tablets, and cellphones.
What does the donation drop-off process look like?
Donating is simple, easy and safe by following these four steps:

Before you arrive at the donation site, please prepare your donation (e.g. untangle & tie up any cords, remove laptops from bags, and attach any power adapters to their associated equipment, etc.).

Please have the donation in one spot, within easy reach, to unload it as quickly as possible.
Drive to your preferred drop site and follow the signage & traffic direction to the designated line for drop-offs.

When it is your turn simply unload the donation from your vehicle directly into the bin provided, and you are done!

Please note that in order to adhere to recommended social distancing measures, Free Geek will only be accepting drive-up donations directly from your vehicle. Free Geek will not be able to accept walk-up donations. For the safety of our community, we ask that donors wear a face covering and maintain a 6-foot distance from staff (and other donors) at all times.
Will I get a donation receipt for this drive?
Due to the expected volume of drop offs and to ensure the safety of everyone involved, Free Geek will not be offering receipts on site at these events. You can visit receipt.freegeek.org to fill out a brief form and have a receipt emailed to you.
For more information visit: Free Geek
Learn More
Earth Day
April 22, 2021 11:00 AM - 2:00 PM
Join us for a celebration of sustainable living in honor of Earth Day! Enjoy fun activities for all ...
Macy's Blue Bag Event - Earth Day
April 22, 2021 10:00 AM - 1:00 PM | Macy's
Macy's Presents: The Blue Bag Event Parkinson's Resources (PRO) is partnering with Macy's to fill a ...